Types of Dog Brushes and How to Use Them
wphungerford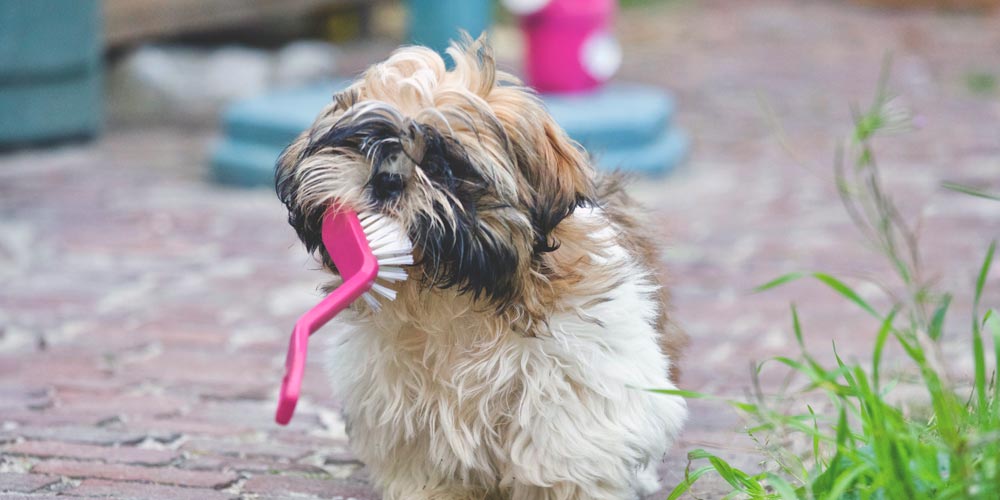 We don't know about you but brushing a dog doesn't seem to rank high on our to-do list. That doesn't mean we don't love our dog. That just means we really don't have time for one more thing. But did you know that brushing your dog can actually be relaxing? Keep reading to learn about the different types of dog brushes and how to use them at home.
Brushing your dog is a basic care activity for your pooch. This will help keep the hair from getting pelted or matted and will keep you in tune with their body condition. You will also be able to catch a flea issue before it becomes a full-fledged problem.
But it can be confusing to pick out the right brush for your dog. Don't worry. We are going to give you the basic rundown of each brush and what they are used for. After that just head to the pet store and pick up the right one for your dog's coat.
Types of Dog Brushes
Pin Brush
A pin brush is the most basic type of brush. It is also one of the most recognizable. It typically has an oval head with thin bristles that have a ball on the end.
This type of brush is most commonly used at the end of a grooming routine. Such as after a bath when the dog is dry. Their fur can then be brushed with a pin brush to get any knots and loose hair out. This kind of brush will work well for dogs with any type of hair.
Rake
If you have ever seen the brush called a "
" or a "deshedding" brush then you know what a rake is. It gets its name from the way it looks. These brushes look like the old style metal rakes.
They have two very tight rows of teeth. This is to help get out tough knots and large amounts of loose fur.
You wouldn't use a brush like this on a short-haired dog. These are used more often on thick-haired dogs and dogs that have a double coat.
Slicker Dog Brushes
A slicker brush is also very good for long and thick-haired dogs. This one has very short thin bristles that are laid out on a rectangular flat head.
If you happen to have a dog that has a body of curly hair this is the brush you want to get. It will take care of those curls without hurting your pup. Brushing your dog with this brush regularly will also get the hair from matting.
Bristle Dog Brushes
While you may think that dogs with very short, slick hair don't need to be brushed you would be wrong. These dogs actually tend to shed often and need to be brushed out to control that.
A bristle brush is an ideal brush for these short-haired dogs. These brushes have natural and soft bristles but they are tightly packed for ultimate effectiveness.
Contact Our Grand Rapids Dog Groomers
Grooming your dog is no easy chore. Although it's possible to handle some areas of pet grooming yourself, it's best to leave it in the hands of a professional pet groomer. Paws & Unwind is a reputable local dog groomer in Grand Rapids and has been taking care of pets for years!
Our friendly staff takes extra precaution when caring for your pup. Whether you bring your dog in for grooming, training or boarding, we believe in safety first! Contact Paws & Unwind today for 25% OFF your first grooming service.